Pitched Roof Roller Shutter
Product No.:202361183351
Name:Special-shaped canopy aluminum roller shutter
Color:White,brown,grey and customized
Application:Sun room, courtyard, pergola, balcony roof, villa roof, canopy

Horizontal Aluminum Roller shutter for outdoor roof use
Sunline Automatic Aluminum European Energy-saving Roller Shutter System Life span up 15 years
Rolling Shutters combined prevention and protection with decoration functions, Rolling Shutter is a new generation product that will effectively replaces the traditional thelf proof nets.
Rolling Shutters Save energy design, when the rolling shutter closed, can saving 30% energy, obstructed 96% sunshine.
Anti-rust, anti-lacerated, anti-mosquito, anti-theft, anti-noise, proof-hurricane, saving energy.
1. Automatic Rolling Shutter System Perfomance:
Shutter Slat option

55mm slats with foam

Guid Rail option

Horizontal roller blind special guide rail

Drive system

Dual tubular mo

tor system+sensor(can choose)

Color

White,brown,grey and customized

Opening ways

electric, remote control, smart home WiFi control,rain/sun/wind sensor

Surface treatment

Powder Coating

Mterial

6063T5 aluminum

2. Roller Shutter Quality Control:
(1)Material Select: Using 97% purity aluminum ingot
(2)Production Standard: Highest standard in China

Product Introduction
Outdoor aluminum alloy sunshade awning all USES aluminum magnesium alloy can effectively resist the wind above 8 level,at the same time under the attack of heavy rain will not be deformed,but also can effectively protect the top glass form hail attack.The material surface adopts the high quality muti-layer baking process,which can play the role of acid resistance,corrosion resistance,beautiful and luxurious.Inside filled with fluorine-free polyurethane,with good heat insulation effect,sun shading rate can reach 100percent,with dimmong,shading,sun protect,lighting,ventilation,energy conservation and environment protection,rugged,heat insulation and cold prevention and other functions.
Suitable for the top of buildings,such as senior residence,apartment,Villa,sunshine room,office,etc.The facade of the sunshade can completely replace fabric,anti-theft net products.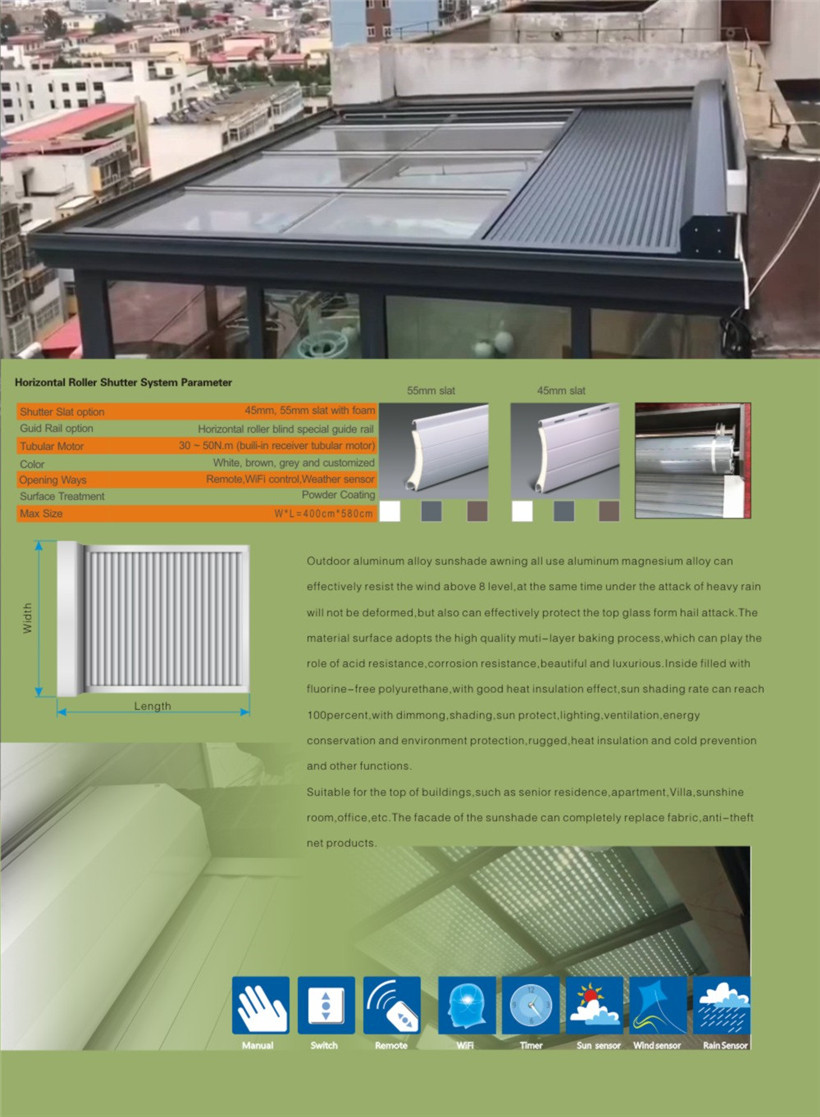 Contact Us
Name: Amanda

Tel: +86-13618482281

Mobile: +86-13975131061

E-mail: info@cnrollershutter.com

QQ: 83367189

WeChat: Rollershutter

Whatsapp: +86 13618482281

Add: Ningxiang National Economic and Technological Development Zone,Changsha,Hunan,China